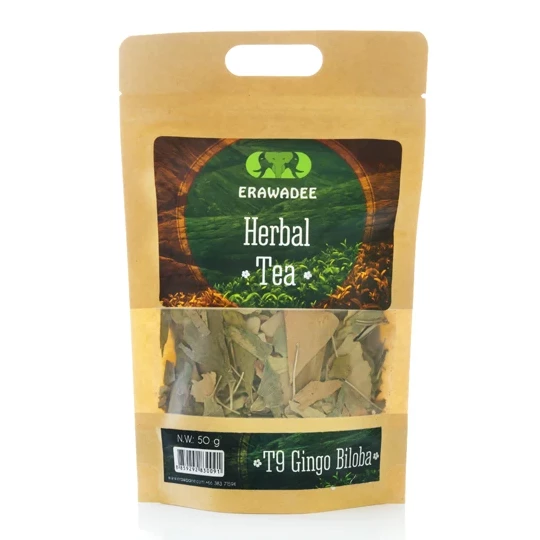 T9 Gingo Biloba Herbal Tea (Brain Issues Treatment)
65g.

Improves memory, thinking and attention. Increases microcirculation in cerebral vessels and peripheral tissues, normalizes the tone of arteries and veins, helps in supplying oxygen and glucose to the brain. Prevents blood clots (including cerebral vessels). Prevents strokes and treats its consequences. Restores during the postoperative period.
Specifications
100g
Directions for use
One – two teaspoons (5g) infuse with 500ml of hot water for 5 - 7 minutes. Drink 250ml of tea with or after food.

Best consumed in combination with T13 Peth Sang Kart and T12 Ginger Tea to treat varicose and strengthen the blood vessel walls. 5g of each tea infuse with 500-700ml of warm water for 4 hours. Drink 200ml of tea in the morning and evening.
Contraindications
No contraindications
Storage
Infused tea can be stored at room temperature for not more than two days, dry tea should be protected from direct sunlight and stored at temperature between 15 and 30 degrees Celsius.
Key ingredients
Gínkgo bilóba
---
---
Feedback and questions:
Людмила Силантьева

Здравствуйте. А как долго пить чай?
If you have any questions please contact us: