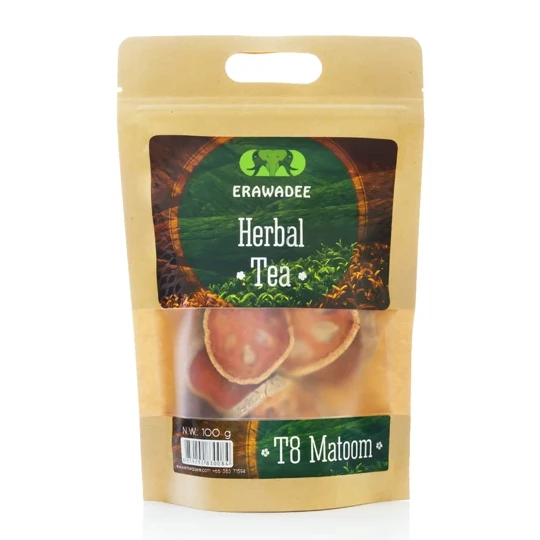 T8 Matoom Herbal Tea (Respiratory System Treatment)
130g.


For the preparation of the drink sun-dried sliced fruits are used. The drink is rich in carbohydrates, vitamin C, pro-vitamin A, iron, phosphorus and calcium. It is very effective in the treatment of diseases of the upper respiratory tract - cough, including chronic and acute bronchitis, tracheitis, tonsillitis, pneumonia, asthma and coughing of smokers. Strengthens the heart muscle.
Specifications
100g
Preparation
Infuse 2 slices with 2l of hot water in a vacuum flask
Boil 2-3 slices in 2l of water, drink the resulting brew 3-4 times during the day
Infuse 1 slice in a 250ml cup. Let it brew for 10-15 min. Can be infused for 3-4 times
Storage
Brew is allowed to be kept at room temperature for no more than 2 days, dry tea is recommended to be stored away from direct sunlight, at a temperature of 15 to 30 degrees Celsius
Complex Therapy
Treatment of acute respiratory diseases with N14 Far Talay Jone (Cold remedy)
Treatment of chronic respiratory diseases with N19 Boraped (Respiratory System)
No.51 YaDom Inhaler
Contraindications
No contraindications
---
Articles:
---
---
Feedback and questions:
Александр Викторович Макаров
Хороший чай. При кашле реально помогает. Рекомендую.
Anonymous

Отличный чай всем советую. Даю детям при ларинготрахеите , на вкус приятный.
Вкусный и полезный чай, хорошо идёт в комплексе с №14 и №19
Вкусный чай, пьем в зимнее время, помогает избавиться: от кашля, от простуды
Очень вкусный чай, пьем всей семьей не только во время простуды
Используем при простудах с номером 14 и 19. Как правила обходимся без таблеток.
Ирина Инзеровна Игнатовская
Очень эффективное средство!
Анастасия Куимова

Идеально при простуде с кашлем
Anonymous

Приятный на вкус чай, использую как доп.средство при лечении. Можно заваривать один кусочек несколько раз

заказываем этот чай уже не в первый раз, завариваем, когда горло першит, кашель. Очень хорошо помогает. Рекомендую
Anonymous

При простуде не заметим!
Anonymous

Очень хороший чай при простудах.
Tatyana P

Этот чай мы завариваем в обязательном порядке при простуде, точнее прямо варим в кастрюльке, чтобы был более концентрированный. Вместе с номером 14 отлично помогает. Кроме пастилок от кашля уже ничего и не покупаю из российских лекарств от простуды. От насморка ингалятор -51, номер 14 и матум, наше основное лечение. Кстати эти дольки можно заваривать несколько раз, поэтому его надолго хватает.
If you have any questions please contact us: