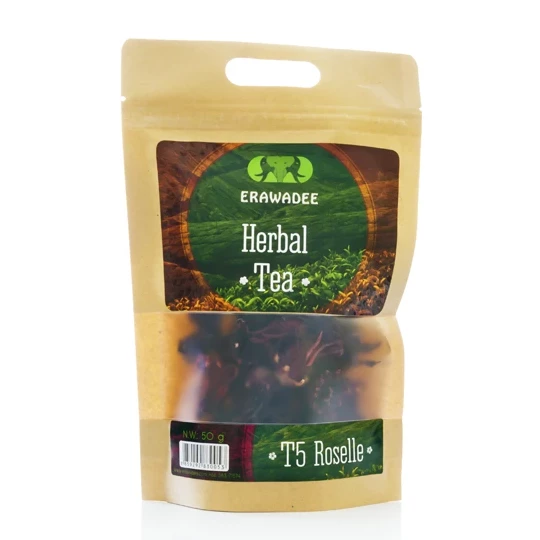 T5 Roselle Herbal Tea (C Vitamins)
65g.

Contains large amounts of vitamin C (250 ml of infusion completely compensates the daily need). Has P-vitamin activity, strengthens the walls of blood vessels, regulates their permeability. Increases the resistance of the body to infections by stimulating the synthesis of interferon. Prevention of bleeding gums, infectious diseases, poisoning. Lowers blood pressure. Has a diuretic and choleretic effect.
Specifications
50g
Preparation
Flowers can be repeatedly infused for up to 5 times
Hot - add 250ml of hot water to 3 flowers and let it brew for 5-7 minutes.
Cold - infuse 10 flowers in 1 liter of cold water for 2-3 hours. The infusion acquires a pleasant, rich ruby color. For sweetening, you can add a tablespoon of raisins, honey or fructose.
Contraindications
Gastritis with high acidity, ulcer
Storage
Brew is allowed to be kept at room temperature for no more than 2 days, dry tea is recommended to be stored away from direct sunlight, at a temperature of 15 to 30 degrees Celsius
---
---
Feedback and questions:
ЧУДЕСНЫЙ КИСЛО-СЛАДКИЙ ВКУС КАРКАДЕ И КРАСИВЫЙ ЦВЕТ
Хороший чай,пью в период простуды,помогает укрепить иммунитет
получали как подарок, отличный чай
Светлана Адельшина

Обычный каркаде, кисленький, вкусный
Чай помог при простуде, улечшае моя самочувствие
Очень приятный вкусный чай.
Отличное средство для поддержания иммунитета.Завариваю один раз в день круглый год и не болею.Приятный вкус, качество как всегда на высоте.Заказываю постоянно уже 3года, беру в подарок всем своим близким
Nefuraito_sama ShiTeno

Здравствуйте. с продукцией Эровади знакомы не первый год. в связи с пандемией, в этом году купить самим не получилось. Порадовало что есть представители в России. посылка шла 89 дней почтой. переживали что упаковка будет в "хлам". но нет, все упаковано очень качественно, аккуратно и с большой любовью. сроки годности наисвежайшие. О качестве препаратов можно и нужно говорить отдельно и очень долго. Эффективность препаратов на порядок выше чем у тех же Индийских аналогов. Помимо пользы это еще и ОЧЕНЬ!!!! вкусно. Еще раз огромное спасибо за внимательное отношение и Российских представителей и Тайцев
If you have any questions please contact us: