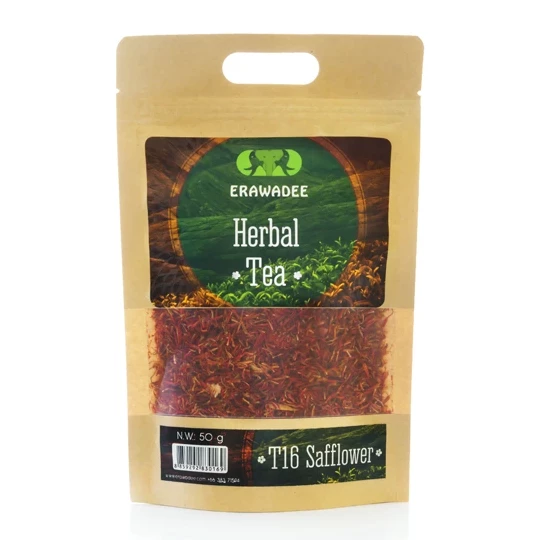 T16 Safflower Herbal Tea (Heart and Pelvic Organs Treatment)
65g.


Activates blood circulation in all organs and tissues. Normalizes the functions of heart and pelvic organs. Reduces cholesterol. Used to prevent heart diseases with chronic heart failure. Reduces the risk of strokes. For men prevents prostatitis. For women, it removes soreness in menstruation. Promotes the breakdown of subcutaneous fat.
Specifications
50g
Healing Tea Blend
According to the recommendations of the Chulabhorn Mahidon University, they have a complementary effect and improve the result, in combination with the T22 Dee Bour Tea and the T20 Kra Chai Dum provides a comprehensive full effect on heart strengthening. For preparation, it is necessary to take a teaspoon of each herb, pour warm water (50-75 ° C) in a vacuum flask or a sealed container, infuse for 4 hours.
Preparation
Drink 250ml after or during meals for , 1-2 teaspoons (5g) infuse with 500ml of hot water (t = 90-95 ° C) and let it brew for 5-7 minutes. You can also use a small amount of 15g when preparing soups.
Contraindications
No contraindications
Storage
Brew is allowed to be kept at room temperature for no more than 2 days, dry tea is recommended to be stored away from direct sunlight, at a temperature of 15 to 30 degrees Celsius
If you have any questions please contact us: