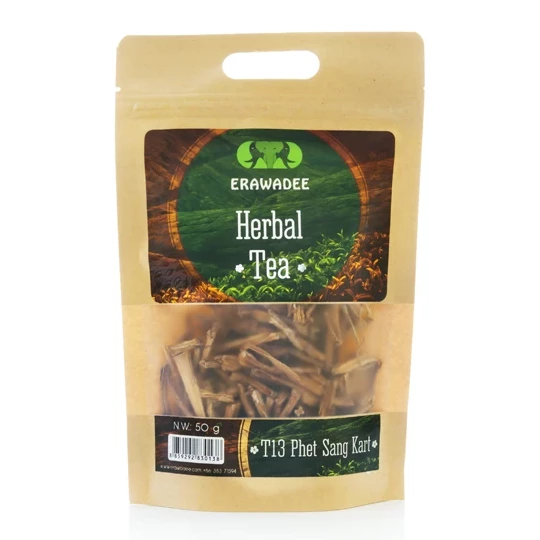 T13 Phet Sang Kart Herbal Tea (Varicose & Hemorrhoids Treatment)
65g.

Treats varicose veins and hemorrhoids. Has anti-inflammatory effect. Strengthens the vascular wall, improves the work of venous valves, has anti-edematous effect. Prevents thrombosis.
Specifications
50g
Preparation
Drink 250ml of tea after or during meals, 1-2 teaspoons (5g) infuse with 500ml of hot water (t = 90-95 ° C) and let it brew for 5-7 minutes. Preventive medicine, for full treatment iN23 Peth Sang Kart (Treatment of varicose veins, hemorrhoids) is used
Healing Tea Blend
For vascular diseases (varicose veins, atherosclerosis), T9 Ginko tea, T13 Peth Sang Kart with the addition of T12 Haam are used to strengthen blood vessels and clean the vessel walls. A small amount of 5g of each herb is ground, infused with 500-700ml of warm water for 4 hours. Drink 200ml in the morning and in the evening.
Contraindications
No contraindications
Storage
Brew is allowed to be kept at room temperature for no more than 2 days, dry tea is recommended to be stored away from direct sunlight, at a temperature of 15 to 30 degrees Celsius
If you have any questions please contact us: