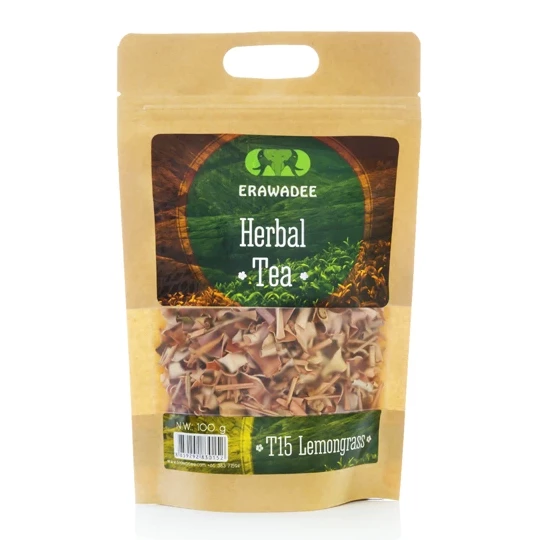 T15 Lemongrass Herbal Tea (Stress Relief & Digestive System Treatment)
130g.


Eliminates stress, soothes without causing drowsiness. Improves concentration of attention. Adds vitality. Relieves flatulence and bloating. Removes inflammation in the gastrointestinal tract (gastritis, colitis).
Specifications
100g
Preparation
Infuse 1 teaspoon (5 g) with 250ml of hot water (t = 80-90 ° C) and let it brew for 5 minutes. You can also use it as a seasoning for food. In cases of deep overstrain or stress is used with No.17 Bua Bok (Remedy for the nervous system)
Storage
Brew is allowed to be kept at room temperature for no more than 2 days, dry tea is recommended to be stored away from direct sunlight, at a temperature of 15 to 30 degrees Celsius
---
---
Feedback and questions:
Екатерина Фролова

Приятно пьется, успокаивает
Натуральный чай, помощник пищеварению, особенно , когда бывают погрешности в еде))))
Хороший напиток получается, холодный вкуснее.
Наталья Мошкина

Очень приятный чай на вкус. С удовольствием пью без добавления сахара. Оказывает успокаивающее действие. Люблю сочетать его с синим чаем Анчан.
Сергей Нелаев

Хороший чай жена успокаивается), заказываю не раз, была бы более доступная доставка брал бы еще чаще,
Очень приятный на вкус чай.
очень вкусный чай с запахом и вкусом лемончика, а еще и полезный, рекомендую
Anonymous

Очень вкусный чай, и помогает при вздутии. Также использую как приправу.
любимый чай? ооочень вкусный, освежающий легкий
If you have any questions please contact us: