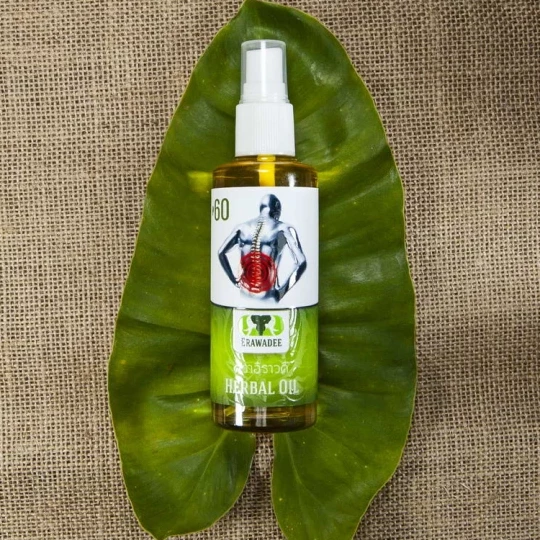 No. 60 Herbal Spray Medical Spray for Back and Joints 30 ml
120g.


Extremely efficient therapeutic spray, consisting of many natural components, made according to ancient Thai recipes.It has strong analgesic effect, relieves pain within 10-15 minutes. Dilates blood vessels at the site of application, the result is a pleasant feeling of warmth in the area of pain, elimination of muscular spasm and increased metabolism. The active ingredients in the composition penetrate deep into the skin and affect the nerve endings, which results in rapid pain relief.
Specifications
30 ml
Indications
Radiculitis, lumbalgia (lower back pain), Myositis (inflammation of one or more of the skeletal muscles)Intercostal neuralgia, inflammation of the sciatic nerve, inflammation of the mucous bags in the joint (bursitis), muscle tendon Inflammation (tenosynovitis), plantar fasciitis, inflammatory and degenerative diseases of the musculoskeletal system - sciatica, arthritis, arthralgia.
In sports - as warming up agent, elbow and knee joints, stretches, and for faster muscle and tendon recovery.
Contraindications
Do not use on damaged, irritated or inflammated skin.
Directions of use
1-2 whiffs of spray to the affected area, rub gently, for better effect cover with a clean cloth or plaster
Caution
Avoid contact with the eyes, nose or mouth - it can cause harmless but unpleasant burning sensation. To remove from skin, use vegetable oil or nourishing cream, from the eyes – use clean vaseline.
Key ingredients
Panax pseudoginseng, Curcuma aromatica
---
---
Feedback and questions:
Этот спрей является отличным решением при болях в пояснице, суставах. Брала небольшой объем в подарк брату, чтобы попробовал. Теперь постоянно им пользуется 🤗, как и я. Рекомендую 👌

Мгновенно снимает боль в пояснице и в коленях.
Полежакова Альвина

Быстро и эффективно снимает болезненность суставов и мышц, в обиходе у нас уже 7 лет, очень нравится
Елена Лемза

Рекомендую
наталья данильченко

Быстро начинает работать, снимает боль
Запах резковатый. Спрей реально работает, снимает боль
Диана Валиева

Это лучшее обезболивающее средство, которое мы когда-либо пробовали! Заказали сразу 8 штук в этот раз. Первые несколько дней помогает обезболить, а при постоянном использовании хронические боли даже уходят. Видимо, действительно лечит
vov1926@mail.ru

Помогает реально...
Anonymous

Снимает и блокирует боль.
Экономично расходуется, прекрасно избавляет от боли
If you have any questions please contact us: