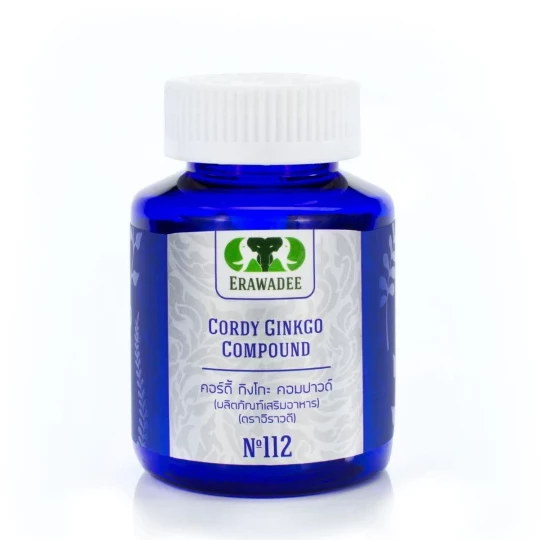 No.112 Cordyceps Ginkgo Compound
180g.


Collection of extracts of Ginkgo Biloba and Cordyceps
Specifications
327 mg, 60 capsules,
The benefits of the cordyceps
Helps to reduce the level of sugar in the blood.
Help slow down aging.
Helps to increase chances of having children
Reduce the chance of tumor cancer
Maintenance of liver and kidneys
Lung maintenance and respiratory system
Helps to calm the mind.
Enhances immunity
Helps reduce inflammation.
The benefit of Ginkgo Biloba extract:
Ginkgo biloba leaf extract is an excellent antioxidant.
Helps to slow down aging and prevent cancer.
Helps to stimulate blood circulation well.
Helps to maintain the brain to prevent dementia.
Helps in matters of concentration and helps to increase memory as well.
Helping Alzheimer's has improved cognition and socialization as well.
Helps to effectively prevent depression for patients who do not respond to conventional treatment.
Helps to reduce cramps or sore muscles in different areas.
Helps to reduce dizziness, loud noises in the ears or tinnitus.
Helps to relieve symptoms of erectile dysfunction as well.
Ginkgo biloba leaf extract Can also help prevent and treat retinal degenerative diseases
Can help prevent diabetes in the eye.
For asthma patients, eating Ginkgo biloba leaves will help prevent contraction of the bronchial muscles.
Contraindications
Individual intolerance. Children's age up to 12 years. Pregnancy, breastfeeding.
Directions for use
1 capsules 1 times a day. Course 60 days.
Storage
The medicine should be protected from direct sunlight and stored at temperature between 15 and 30 degrees Celsius.
---
---
Feedback and questions:
Кудрявцева Анна

Принимала курсом 3 месяца. Эффект есть и заметный: практически сразу стала бодрее, легче встаю по утрам, голова лучше соображает. Энергии явно прибавилось. Из интересного и неожиданного: холестерин снизился на 0.9, больше такой результат списать не на что.
Симановская Юлия Викторовна
Даже не знаю что написать. Может быть внутри что то и произошло, после употребления данного препарат, но это никак не проверишь. Внешне и общее самочувствие абсолютный ноль. Ничего не изменилось. Разочарование, ведь цена не маленькая.
Ирина Николаевна Ощепкова
заказываю 3-й раз. Очень хорошо действует на общее эмоциональное состояние и нервную систему, нормализует сон.
Anonymous

Принимаю препарат второй месяц. Головные боли стали реже, пожалуй, прибавилось бодрости и сил.
Кордицепс понравился, чувствуется прилив сил и главное головные боли стали реже, а если заболела голова-боль проходит быстро. Буду брать ещё.
Anonymous

Можно брать
Средство очень хорошее. Результаты поразительные. Дороговато, но однозначно стоит этих денег.
заказываю второй раз , считаю необходимое средство при нынешнем ритме жизни, и цена адекватна по сравнению с аналогичными продуктами
Доставка пришла из Тайланда, посмотрим на действие, пока сложно сказать
If you have any questions please contact us: