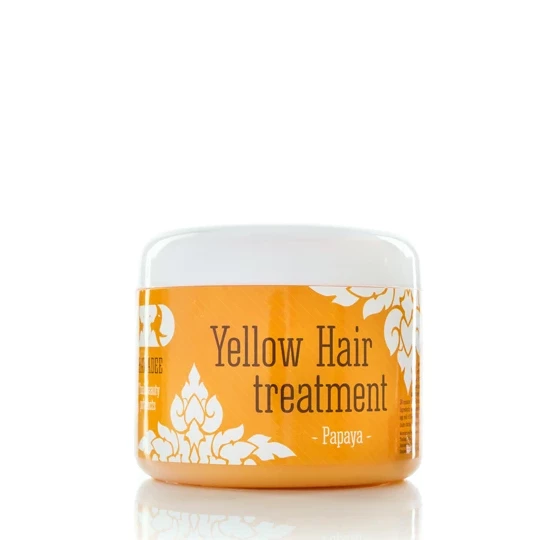 Yellow Hair Treatment with Papaya
400g.

A gentle hair mask based on egg yolk, papaya and biotin moisturizes and nourishes the hair, protecting it from the external environment, tones up the skin, regulates the water and fat balance, protects the hair from physical and chemical effects, restores and protects the hair stem, glands and stimulates hair growth. It gives the hair a healthy look and shine.
Specifications
300g
Directions for use
On wet clean hair apply a small amount of mask and evenly distribute. Gently massage with your fingers. Leave for 10-15 minutes, rinse with water. It is recommended to use a steam hood or a warm hood to enhance the effect.
Can be used in the sauna.
---
Articles:
---
---
Feedback and questions:
Маска действительно очень эффективная! Мой парикмахер сразу заметила разницу, а прошёл всего месяц)) Рекомендую тем, кто хочет качественные и красивые волосы!!!
Очень люблю эту маску, волосы после неё очень мягкие, гладкие. Особенно нравится её эффект, когда в конце зимы волосы истощены, пару недель применения при мытье и совершенно другой эффект, волосы становятся крепче
Katherina Makarova

Маска огонь! Первый раз брала в Тае черную, подруге вот эту рыжую с папайей. Мы в восторге! Волосы перестали сыпаться, не так быстро жирняться. Находка за такие деньги даже с учетом доставки! Теперь всем рекомнендую
Покупал дочери, очень понравилась
Маска не плохая, но черная лучше.
Lexicon Shilov

Отличная маска, но супруги больше нравится черная
Angela

pemakaian produk ini bisa mengembangkan rambut kita & juga menghitamkan rambut, menjadikannya sehat. inilah yang saya dapatkan dari penggunaan produk ini. saya rekomendasikan produk ini untuk orang-orang yang ingin membeli tapi masih ragu. ga perlu ragu, langsung saja dibeli karena bahan alami & produk erawadee ini tidak perlu ditanyakan lagi kualitasnya. penggunaannya pun sangat irit, tidak perlu banyak2 sudah bisa mengcover seluruh rambut
Tatyana P

Усмиряет непослушные волосы, они меньше пушатся и лучше укладываются. Чередую с черной маской по настроению.
If you have any questions please contact us: