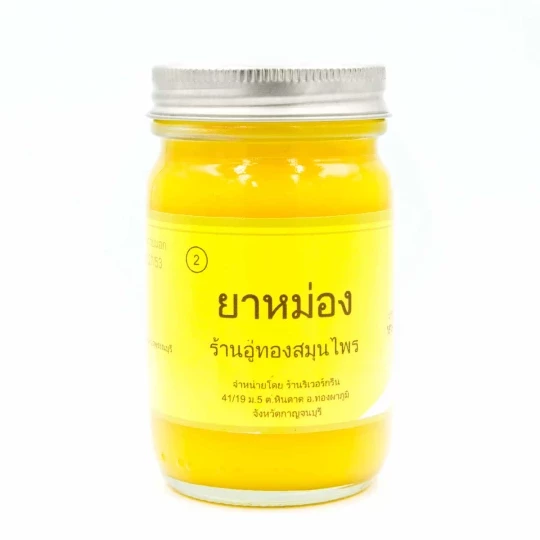 Yellow Balm
250g.

Thai herb balm Ya Mong Sud Pai consists various natural oils and herbs. Apply for grinding joints and muscles. Thai people widely use this balm for massage, for joint pain relief, and also for faster bones merging (causes intensive blood inflow).
---
---
Feedback and questions:
Чипизубова Юлия Павловна

Брала маме для больных ног, суставов. Она скептик в отношении народной медицины. Попросила заказать ещё 2. Сама не пробовала. Но аж 2 пузырька мама не стала бы заказывать если бы не помогало.
Заказывала маме, у неё болят колени. Ещё одну баночку не закончила, попросила заказать ещё 2, говорит хорошо помогает.
Anonymous

Согревает, сильный запах
Долго искала именно этот бальзам, именно из этого заповедника. Качественный продукт, упаковка, доставка!
Великолепный бальзам, давно пользуюсь ими, как привезли первый раз из Тая, оценили качество. Теперь заказываем с сайта. На данный момент именно желтый помогает восстановлению после перелома в стопе. Облегчает состояние.
If you have any questions please contact us: