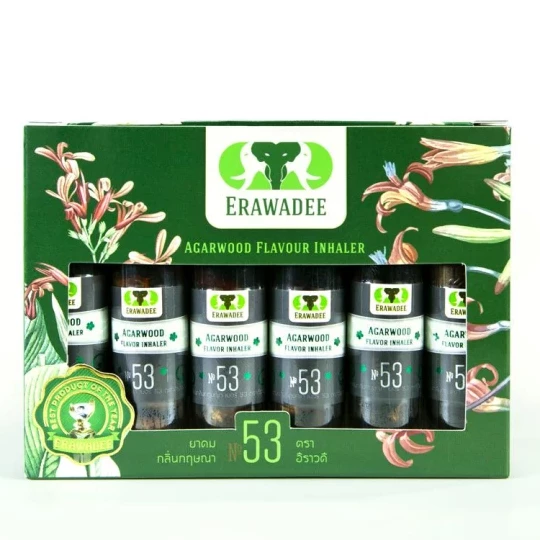 Thai Herbal Nasal Inhalant with Agarwood 12 pcs
1000g.

The Erawadee Thai Herbal Nasal Inhalant with Agarwood is a natural and effective remedy for relieving congestion and sinus issues. Made from a blend of essential oils and herbs, this inhaler provides a refreshing and soothing sensation to your respiratory system. The inhaler features a strong menthol and eucalyptus scent that can help clear your upper respiratory tract
The Erawadee Thai Herbal Nasal Inhalant with Agarwood No.53 - Ya Dom
Improved formula. Agar oil has analgesic, anti-inflammatory, tonic and antioxidant effects. Universal treatment of headache, sickness, vertigo, seasickness, blocked nose, apathy, nervous system disorders. Contains more than 20 types of essential oils and ginseng. Besides that it serves as an excellent counter to unpleasant odors and relieves itch and swelling from insect bites. Ballpoint container is extremely convenient to use in everyday life.
Oud tree oil - useful properties and uses
Oud tree oil (also known as "agarwood") is obtained from the roots, trunks and branches of the Agarwood tree by drying and distillation. This oil is traditionally used in the medical and cosmetic industries due to its many beneficial properties.
Among the main properties of oud tree oil are its antibacterial, antiseptic and antioxidant properties. Oud tree oil is also known for its calming properties, which is why it is often used to relieve stress, improve mood, and increase energy.
In addition, oud tree oil is used for skin care due to its moisturizing and softening properties. This oil also helps fight signs of aging, improves complexion and strengthens hair.
The use of oud tree oil in cosmetic and medical treatments is becoming increasingly popular. If you are interested in trying this oil, please consult a qualified medical or cosmetic professional for advice and advice on using oud tree oil.
Inhaling oud tree oil can have the following benefits:
Relaxing effect: Oud tree oil can help relieve tension, fatigue and stress.
Antibacterial Action: Oud tree oil contains phenolic compounds that can help fight bacteria and other microorganisms.
Air Scenting: Oud tree oil has a very pleasant and rich aroma that can be used to scent the air, especially in the bedroom.
Help with Respiratory Tract Diseases: Oud tree oil can help with coughs, bronchitis, and other respiratory ailments due to its anti-inflammatory properties.
Oud tree oil can be used in a variety of ways, including use in aroma lamps, baths, massage, or inhalation from a bottle. However, before using oud tree oil, you need to make sure that you are not allergic to this oil and that it does not cause any side effects. In addition, it is worth paying attention to the quality of the oil and its origin.
Liquid pencil with essential oils and agar oil is made on the basis of the usual Thai inhaler Ya Dom
Indications
- Headache: rub into the temples with gentle circular motions
- Runny nose: apply to the skin under the nose, lubricate the wings of the nose
- Nausea, dizziness, motion sickness, motion sickness, fainting: rub into the temples and bridge of the nose
- Increased pressure: apply to the occipital region of the head
- Insect bites: Apply to the affected areas of the skin
After use, do not forget to close the lid - essential oils evaporate very quickly. Does not contain preservatives and surfactants
Contraindications
Individual intolerance, skin damage
Special instructions
Care must be taken to avoid accidentally getting oils in the eyes, nose, or mouth, as this can cause a harmless but unpleasant burning sensation. You can remove oils from the skin with vegetable oil or a nourishing cream, from the mucous membrane of the eyes - with Vaseline.
Storage Method
The oil is recommended to be stored away from direct sunlight, at a temperature of 15 to 30 degrees Celsius.
Compound
Camphor, Eucaliptus, Clitriodora oil, Menthol, Myristica Franrans Fruit Extract, Panax Ginseng Root extract, Eugenia caryophullus bud oil, paraffinum liquidum, Piper Nigrum seed extract, Agarwood Oil
Specifications
12 pcs. x 8 ml
If you have any questions please contact us: