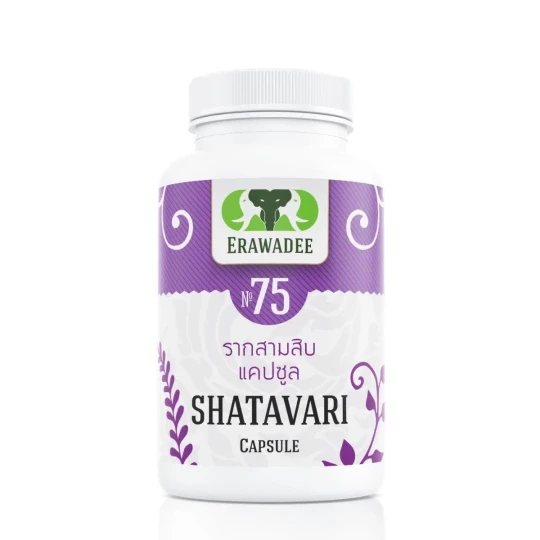 No.75 Shatavari A natural tonic for the female body
113g.

A natural tonic for the female body, which has a powerful set of healing properties. It is used to treat infertility. And the normalization of the reproductive system for women of any age. The strongest antioxidant and aphrodisiac, which slows down the aging process and enhances libido, increases libido. It has anti-inflammatory, antibacterial, antifungal effects. Normalizes the hormonal background, metabolism. Increases breast size, making it more elastic.
Specifications
500 mg х 100 capsules
Indications
Infertility (a tendency to miscarriage, activates the egg and increases their ability to fertilize, strengthens the walls of the uterus).
Chronic inflammatory and infectious diseases of the pelvic organs (XP colpitis, pachyvaginitis,
candidiasis, chlamydia, etc.). Cervical erosion.
Dryness, burning, unpleasant odor and discomfort in the genital area.
Violation of the menstrual cycle.
Hysterectomy (removal of the uterus)
Contraindications
Pregnancy, lactation
Directions for use
1-2 capsules 2 times a day after meals. The course is 4-6 weeks.
Storage
The medicine should be protected from direct sunlight and stored at temperature between 15 and 30 degrees Celsius.
Key ingredients
รากสามสิบ - Shatavari
Shatavari (lat. Asparagus racemosus ) - a plant mostly found in the eastern states. Shatavari is one of the most famous adaptogenic plants in the world. Such plants increase the body's resistance to stress, trauma, fatigue, anxiety and psychic tension, in consequence of the saponins they contain. They are called anti-aging herbs, natural tonics. Adaptogenic herbs are able to balance the hormonal and immune systems and restore the body and its main functions after stress. Shatavari has antioxidant, antibacterial, antiseptic, anti-inflammatory, diuretic, emollient, astringent, antispasmodic properties.
First of all, the shatavari is intended to improve women's health. They stabilize the endocrine profile, slow aging. It is a strong antioxidant, a natural tonic of the female body, an aphrodisiac, increases libido, eliminates frigidity, balances the female reproductive and hormonal systems, helps with menopause and infertility, tonic for the whole body, has anti-inflammatory, softening and astringent action, heals ulcers and wounds, softens mucous membranes, treats cystitis, fevers, relieves spasms, cleanses the blood, lowers blood pressure and hyper acidity, antiseptic, treats skin diseases, spasmolysis. However, the beneficial components that are part of the composition also help to cope with joint pain, boost the immunity, and eliminate inflammatory processes in the body.
---
---
Feedback and questions:
нормализовался цикл. помогает
Пью по 1таб -три раза, приливы исчезли, жизнь заиграла яркими красками.Рекомендую и сама обязательно буду заказывать
Суслякова Светлана Владимировна

Это настоящая находка для меня! Однозначно рекомендую попробовать! Мне 50 лет. Но я нечувствую сейчас этого возраста. Плюс занятие спортом конечно. Спасибо, Эравада.!
Супер капсулы для женщин!!! Заказываю не первый год!!
If you have any questions please contact us: