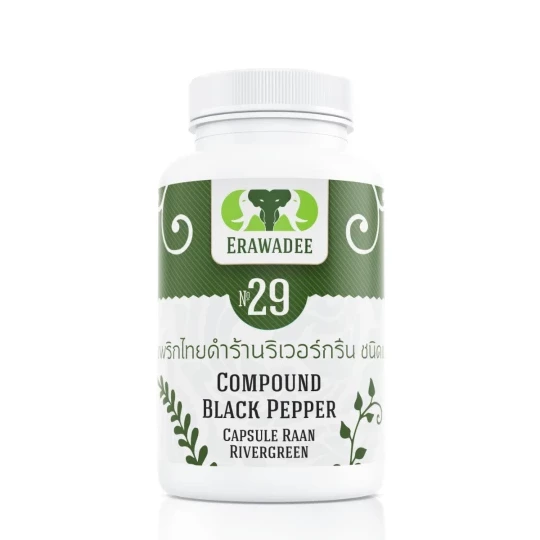 No.29 Prik Thai Dam (Fat Burn)
113g.

Weight loss and slimming, reduces visceral fat, speeds up the basic metabolism resulting in consistent fat burn.
Specifications
250 mg х 100 capsules
Indications
Excess weight due to physical inactivity (diet-induced obesity).
Tendency to weight gain (after pregnancy, during climax).
Obesity caused by type 2 diabetes and hypothyroidism
As a comprehensive therapy: it is recommended to add appetite reducer (N47 Garcinia Cambogia), bowel function regulator (N35 Ya Ra Bai). In case of increased appetite caused by stress medication for normalizing of emotional conditions can be used (N17 Bua Bok).
Contraindications
Pregnancy, lactation. Keep out of reach of children.
Directions for use
Orally 1-2 capsules 3 times a day during or immediately after meal (wash down with water)
Storage
The medicine should be protected from direct sunlight and stored at temperature between 15 and 30 degrees Celsius.
Key ingredients
Mixed Pepper (Mixed Piperis)
---
---
Feedback and questions:
Anonymous

За месяц похудела на 3кг. Закажу еще...
Это средство действительно работает. Проверила на себе. Естественно оно не волшебное, надо немного и каллории посчитать, но хочу сказать, что за 1,5 года минус 50 кг легко
Купил ради интереса, эффекта особого не ощутил, за месяц -2 кг
Anonymous

Не знаю как на счет сжигания жира, но отрицательного ничего сказать не могу.
Не смогла пить, вызывает сильную изжогу.
Lexicon Shilov

Отличный вещь, после нее реально меньше хочется есть, эффект будет точно заметен
Жданова Валентина

Мне препарат помог, в совокупности с правильным подбором питания получился более быстрый результат. Несмотря на отрицательные отзывы решила попробовать. Вероятно препарат не всем подходит
Светлана Мальцева

Бесполезные капсулы. Жиросжигания - ноль 0, и от такой дозы перца ещё и желудок можно испортить.
Бессонова Екатерина

Начинает тошнить после приема капсулы
If you have any questions please contact us: