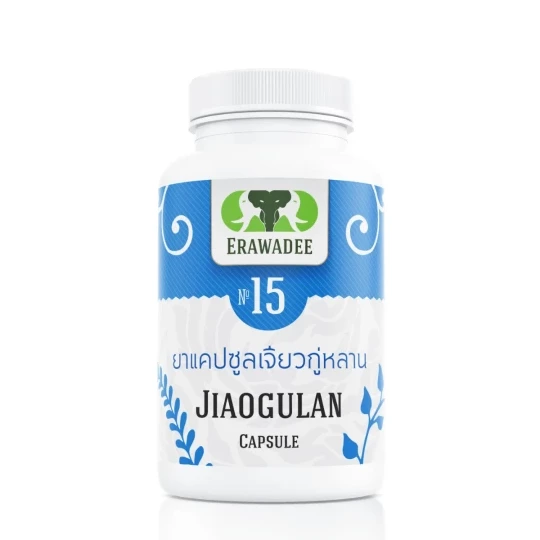 No.15 Secret of Thai Youth Jiaw Koo Larn
113g.


Jiaogulan (Andrographis Paniculata) "Herb of Immortality". Has a wellness and rejuvenating effect. Increases the body's resistance to the harmful effects of physical, biological and chemical origin. Enhances the regeneration of tissues. Improves the endocrine and autonomic regulation. Supports the overall tone and performance, including the elderly. Recommended as an additional and preventive medication.
Specifications
250 mg, 100 capsules
Indications
Reduces jetlag and altitude sickness.
Increases performance, psycho-emotional activity and life tone.
Improves functionality of endocrine, cardiovascular, and genitourinary systems, hemopoiesis and GIT.
Normalizes sugar and cholesterol levels in blood, liver functionality.
Reduces the risk of cardiovascular and oncological diseases, diabetes.
Strengthens bone tissue, up the splice fractures.
Heals wounds faster.
Eliminates toxins, radionuclides (radioactive particles).
Raises immunity and protective forces of an organism.
The systematic use as part of comprehensive therapy improves the efficiency of primary treatment for the following diseases: diabetes, thyroid diseases, osteoporosis, CHD, liver diseases, genitourinary system diseases, asthma, atopic dermatitis, diseases accompanied by decrease in immunity, fractures and wound processes.
Contraindications
Pregnancy and lactation.
Directions for use
Orally 1-2 capsules 3 times a day after meals, wash down with water; during 4-8 weeks.
Storage
The drug should be stored away from direct sunlight, at a temperature from 15 to 30 degrees Celsius.
Key ingredients
Andrographis Paniculata
---
---
Feedback and questions:
Брали маме. С её слов, улучшилось самочувствие.
наталья данильченко

Пропила, все без изменений
Пропивал комплексом осенью в целях повышения иммунитета, результат отличный, практически не болел.
Хорошее средство, кожа стала выглядеть гораздо лучше
замечательное средство, добавляет жизненных сил, тонизирует организм.
Каждую весну заказываю для мамы,после зимы хандра,нет желания ничего делать, после приема капсул всё меняется,бодра,весела. Всем советую.
If you have any questions please contact us: