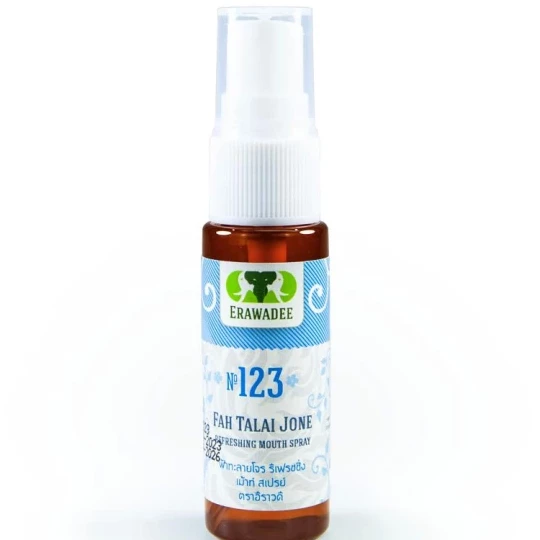 No.123 Herbal Throat Spray Andrographis
$7.00
50g.

Reach for this formula when your voice is hoarse, speaking may be difficult or your throat feels irritated, tired and dry. The herbs in this formula are moistening and soothing to help ease the discomforts of seasonal challenges or overuse. For both in-the-moment needs or to get through a short, tough time, find your voice again with Herbal Throat Spray Andrographis
What is Herbal Throat Spray Andrographis (Fah Talai Jone):
This is a natural throat remedy made from the andrographis plant. This spray has strong anti-inflammatory and antimicrobial properties that help relieve sore and irritated throats. It also helps strengthen the immune system and can be used to prevent colds and flu. Herbal Trout Spray Andrographis is the ideal solution for those looking for a natural and effective way to cope with throat problems. Andrographis has several beneficial properties. It has anti-inflammatory effects, making it useful in treating various inflammatory conditions such as sore throat, pharyngitis and other throat infections. Andrographis also has antibacterial and antiviral properties, which can help fight infections and strengthen the immune system. This plant extract may also reduce inflammation and suppress allergic reactions, while benefiting the respiratory system. Andrographis is a beneficial herb used in traditional medicine to support throat and immune system health.
The immune system is your primary defense against common illnesses such as colds and flu, which is why it's important to keep this system healthy. Erawadee Herbal Throat Spray Andrographis® contains a combination of vitamins, minerals and herbs that help support immune health and seasonal wellness.*
Boost Your Immune Health This product contains a unique combination of three ingredients that support the immune system. First up is Andrographis Extract, an herbal extract that has been recognized worldwide as beneficial for seasonal well-being. It also plays a role in suppressing inflammatory mediators associated with the common cold, and thus may help reduce the severity of symptoms.
Erawadee Herbal Throat Spray Andrographis® is formulated using a clinically proven and fast-acting form of Andrographis paniculata extract with 7 bioactives. It is suitable for vegetarians and vegans and does not contain gluten or soy.
Non GMO
Dietary Supplement
Soy Free
Herbal Supplement
Indications
Flu, SARS and ARDS (acute respiratory disease).
Immune Respiratory Support
Tonsillitis, sinusitis, pharyngitis, sore throat.
Acute bronchitis.
Pregnancy
The medicine can be used during pregnancy.
Contraindications
Lactation period. This medicine can be used with caution during pregnancy, please confirm with your doctor.
Directions for use
Spray 2-3 times directly in throat and swallow. Limit use to 5 times per day. Avoid spraying into eyes.
Storage
The drug should be stored away from direct sunlight, at a temperature from 15 to 30 degrees Celsius.
If you have any questions please contact us: