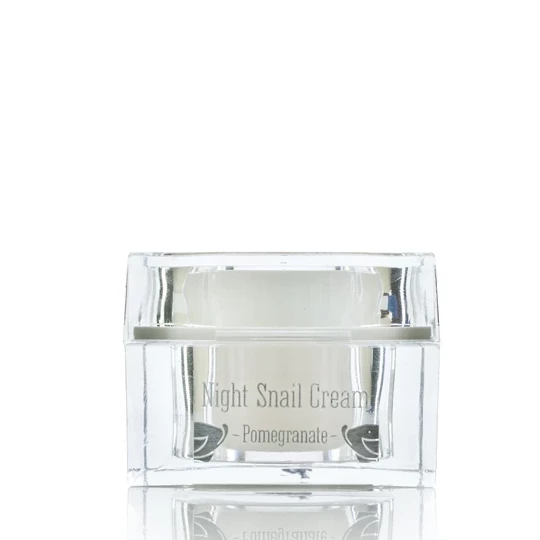 Night Snail Cream with Pomegranate Extract
280g.

According to recent studies of snail slime, scientists have established that the human skin perceives it as a "native" substance. Slime from the secretion of snails is an environmentally friendly and fully renewable ingredient that does not harm the environment. Snail slime is rich in essential amino acids, vitamins, elastin, natural collagen, mucin and others.
Specifications
50 g
How it works
Restores the structure of the skin of the face, leveling it and improving the complexion
Natural moisturizing ingredients protect the skin from dehydration
Eliminates skin pigmentation and prevents its appearance
Helps strengthen the collagenous tissues of the epidermis
The skin becomes more elastic, smooth and supple
Key ingredients
Aqua, Sodium acrylate, acryloyldimethyltaurate copolymer, isohexadecane, Polysorbate 80, isononyl isononanoate, 1,3-bls (hydroxymethyl), 5,5-demithylhydantoin, Tocopherol Acetate, Simmonsia Chinensis Seed Oil, Butelene Glycol, Snail Secretion Filtrate, Punica Granatum Extract, Fragrance
---
---
Feedback and questions:
Екатерина Фролова

Хороший питательный крем, отбеливает кожу и долго остаётся увлажненной
Нравится использовать улиточные кремы. Этот очень удачный. Легкий приятный аромат. Нежная текстура. Впитывается мгновенно. Лицо получает удовольствие.
Егоркина Елена

Крем просто супер
отличный крем , заказываю не первый раз в паре с дневным, нежная текстура хорошо впитывается , кожа нежная не жирная с утра, рекомендую
Lexicon Shilov

Отличный крем, супруга хвалит, эффект заметен
Особых изменений я не заметила. Не противный
Tatyana P

Хороший крем с приятной текстурой и запахом. Утром просыпаюсь и не страшно смотреть на себя в зеркало, кожа упругая, в тонусе.
If you have any questions please contact us: